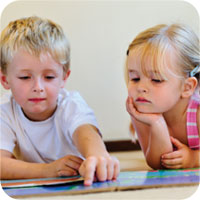 About Us
The Reading Studio was established by Robert and David Berkelouw in collaboration with Associate Professor Jane Torr.
Our teachers are early childhood specialists with a passion for children's literature and a deep knowledge of how young children learn to read and write English. Children who learn in our environment realise that reading is entertaining and fun. They want to read because it is enjoyable, and the more they read, write and discuss, the more skilled they become at it. We are based in Sydney.
Advisory Panel
Associate Professor Jane Torr
Associate Professor Jane Torr works at the Institute of Early Childhood, Macquarie University ... read and hear more.
Richard Gill OAM
Richard Gill is internationally respected as a music educator and conductor ...
read and hear more.
Associate Professor Alyson Simpson
With a background as a teacher librarian Associate Professor Alyson Simpson now works with graduate-entry trainee teachers at the University of Sydney ... read and hear more.
Professor Vrasidas Karalis
Professor Vrasidas Karalis specialises in language learning, language acquisition and literary stylistics ... read and hear more.
Founders
Robert Berkelouw
Robert Berkelouw is a sixth generation book dealer, and one of three brothers who own and operate 'Berkelouw Books' ... read and hear more.
David Berkelouw
David Berkelouw is a director and partner of Berkelouw Books, one of Australia's leading independent booksellers ... read and hear more.
Teachers
Janelle Berents
Janelle Berents is a graduate of the Australian National University and holds a Bachelor of Arts Degree specialising in English Literature and a Diploma of Education from the Canberra College of Education. With over thirty years experience teaching English, Drama and Debating to high school students she has joined the Reading Studio in the belief that its small group, child centred approach to learning nurtures confidence, social interaction and self expression at an early age.
Janelle believes The Reading Studio offers pre-school age children the opportunity to immerse themselves in the magic of books and language within an imaginative and fun environment thereby developing the necessary vocabulary and comprehension skills integral to effective performance at school.
Melissa Putre
Melissa Putre is an early childhood educator who graduated from Macquarie University and holds a Diploma of Teaching. She has over fifteen years' experience working in both preschool and long day care with children aged from two to five years old.
Melissa believes that each child is unique and therefore it is important to provide a learning environment which will interest, challenge and stimulate each individual child in order to facilitate their development in the area of reading, writing and public speaking. She aims to meet the needs of the children while fostering the development of a positive self -esteem in order to ensure each child's achievements are valued.
Additionally, Melissa aims to involve the parents during the sessions which will enable the children to reach their full potential. She believes that it is also important to develop and promote positive learning attitudes and skills which children will need in their future education.
Melissa is a mother of two young children.