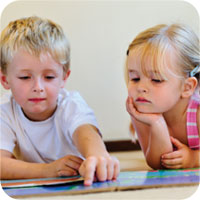 About Us
The Reading Studio was established by Robert and David Berkelouw in collaboration with Associate Professor Jane Torr.
Our teachers are early childhood specialists with a passion for children's literature and a deep knowledge of how young children learn to read and write English. Children who learn in our environment realise that reading is entertaining and fun. They want to read because it is enjoyable, and the more they read, write and discuss, the more skilled they become at it. We are based in Sydney.
Advisory Panel
Associate Professor Jane Torr
Associate Professor Jane Torr works at the Institute of Early Childhood, Macquarie University ... read and hear more.
Richard Gill OAM
Richard Gill is internationally respected as a music educator and conductor ...
read and hear more.
Associate Professor Alyson Simpson
With a background as a teacher librarian Associate Professor Alyson Simpson now works with graduate-entry trainee teachers at the University of Sydney ... read and hear more.
Professor Vrasidas Karalis
Professor Vrasidas Karalis specialises in language learning, language acquisition and literary stylistics ... read and hear more.
Founders
Robert Berkelouw
Robert Berkelouw is a sixth generation book dealer, and one of three brothers who own and operate 'Berkelouw Books' ... read and hear more.
David Berkelouw
David Berkelouw is a director and partner of Berkelouw Books, one of Australia's leading independent booksellers ... read and hear more.
Teachers
Jo Sharkey

I'm an Early Years teacher with a particular passion for reading. I believe that children should be read aloud to from the moment they arrive in the world, and for as long as they would like to snuggle up and listen to you - even into teenage years if they'll let you! This will instill a lifelong love of stories and reading. I enjoy teaching children to read through play, drama, art and craft. I believe learning to read should be a fun and positive experience, and a challenge that the child is excited to fulfill when they are ready. I studied and qualified in the UK and taught for several years over there, and then decided to teach in International schools in Singapore and Cambodia. When I came to Australia, I opened my own Family Day Care, which I have been running now for 13 years. All of the children that come to me get read to on a daily basis and my preschoolers start school with a headstart to learning to read and write with my Jolly Phonics literacy program. I live in Annandale with my 7 year old son, who still won't go to bed without a bedtime story.