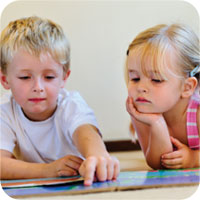 About Us
The Reading Studio was established by Robert and David Berkelouw in collaboration with Associate Professor Jane Torr.
Our teachers are early childhood specialists with a passion for children's literature and a deep knowledge of how young children learn to read and write English. Children who learn in our environment realise that reading is entertaining and fun. They want to read because it is enjoyable, and the more they read, write and discuss, the more skilled they become at it. We are based in Sydney.
Advisory Panel
Associate Professor Jane Torr
Associate Professor Jane Torr works at the Institute of Early Childhood, Macquarie University ... read and hear more.
Richard Gill OAM
Richard Gill is internationally respected as a music educator and conductor ...
read and hear more.
Associate Professor Alyson Simpson
With a background as a teacher librarian Associate Professor Alyson Simpson now works with graduate-entry trainee teachers at the University of Sydney ... read and hear more.
Professor Vrasidas Karalis
Professor Vrasidas Karalis specialises in language learning, language acquisition and literary stylistics ... read and hear more.
Founders
Robert Berkelouw
Robert Berkelouw is a sixth generation book dealer, and one of three brothers who own and operate 'Berkelouw Books' ... read and hear more.
David Berkelouw
David Berkelouw is a director and partner of Berkelouw Books, one of Australia's leading independent booksellers ... read and hear more.
Teachers
Felicity Bowman
Felicity is a passionate, driven and experienced educational practitioner, who brings with her more than a decade of teaching experience - developing, implementing and delivering quality teaching and learning programs catering to different age groups, needs and learning styles. Her creative and engaging style is a breath of fresh air for the Leichhardt Reading Studio. With degrees in Arts and Education and a major in Children's Literature, Felicity's infectious energy and enthusiasm is set to foster a real sense of joy and wonder in 2 to 6 year old children, as they explore reading in a fun and practical fashion.