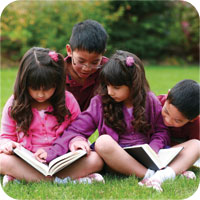 Programmes and Timetable
Our programmes have been developed drawing on peer reviewed, evidence based research on how children learn to read and write.
Our programmes teach literacy concepts embedded in literature rich environments. We provide a weekly programme with objectives, indicators, strategies and resources for each age group in order to provide consistency and quality assurance across all our sessions.
The Reading Studio Is Currently Unavailable
Email: leichhardt@berkelouw.com.au
Phone: (02) 9560 3200
Programme Information
Our sessions run for 45 mins – 1 hour (depending on age group), in small groups. Each session is $15 payable on the day. You are welcome to commence at any point in the term, skip weeks, or come twice a week. It is entirely up to you and your child.
Programme Details For Different Ages